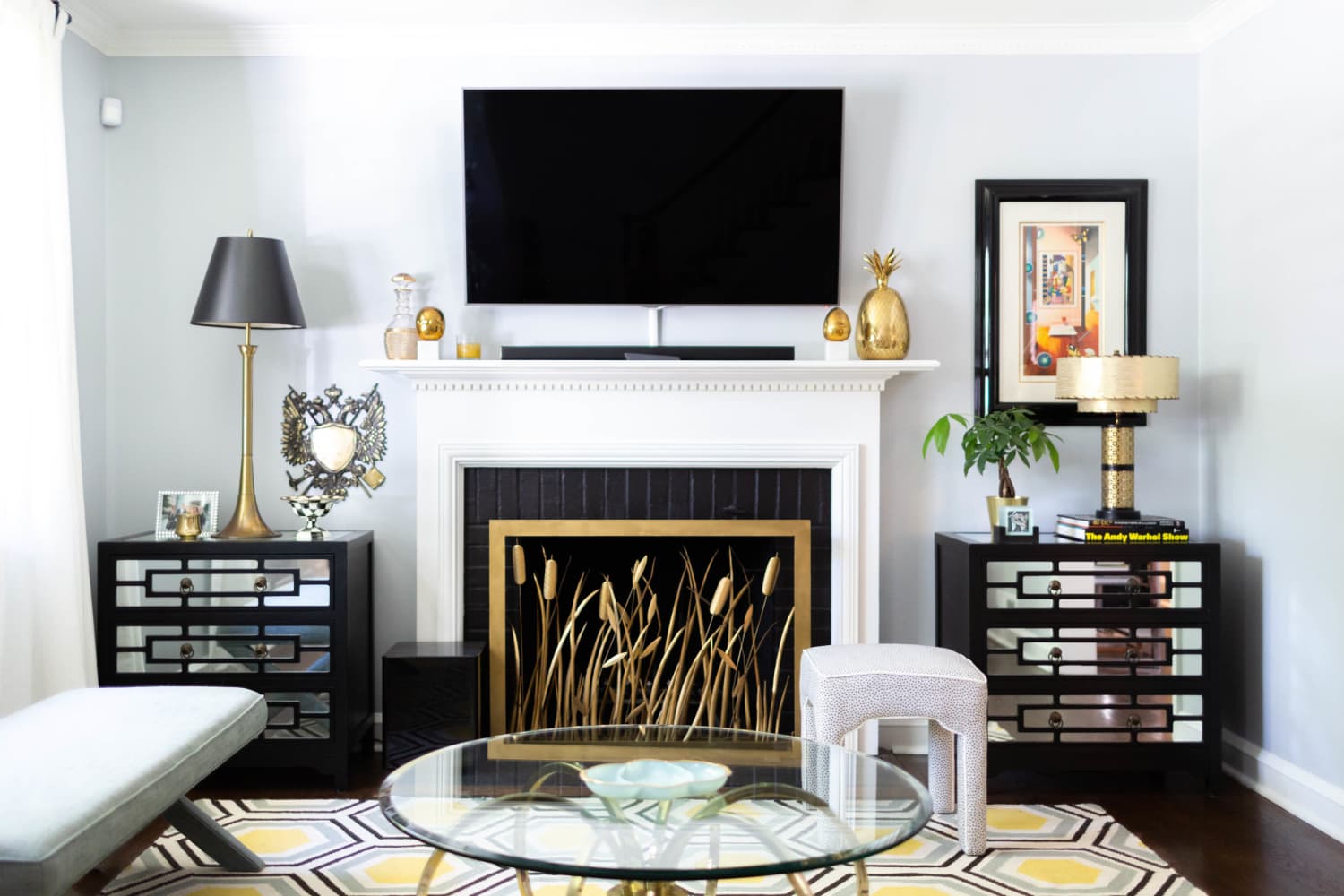 We independently select these products—if you buy from one of our links, we may earn a commission.
The U.S. (and the world) was in the midst of a crippling depression at the end of the 1920s and into the 1930s, but you would never guess it from the furniture. Desks, bookcases, and accent chairs channeled a "World of Tomorrow" ethos, which was also the theme of the 1930s' last New York World's Fair. People outfitted their apartments, houses, and offices in chrome, mirrored, and glass finishes, inspired by the changing city skylines. In all their steel glory, skyscrapers like the Chrysler Building, completed in 1930, and the Empire State Building, completed in 1931, soared to the heavens, symbolizing an ascent into a hopeful future.
While tubular, stainless furniture and mirrored side tables certainly feel very 2021, not 1921 — and a quick scroll of Instagram and our house tours prove that point — these trends actually hark back to the early 20th century and followed the trajectory of the architecture at the time, often borrowing the materials and shapes used in skyscraper construction.  
The Art Deco movement first took the world by storm in the mid-1920s, inspired by modernity and building upon — but simplifying — the brief but highly stylized Art Nouveau period. Art Deco took the exotic wood veneers and elaborate inlays of Nouveau, marrying them with sleek shapes and the rigorous geometry of new industrial materials and building technologies. Sinuous decorative flourishes became sunbursts, sharp, angular zigzags, and fan motifs. When the stock market crashed in 1929, Art Deco was stripped down to an even simpler form called "streamlined moderne," but the style still held onto its modernist bent.
Art Deco furnishings featured machine-age-inspired designs, using materials that included metal, chrome, brass, lacquer, mirrors, polished wood, and Bakelite plastic, many of which skyscrapers that were being newly built everywhere from New York City to Chicago to Detroit also incorporated. The country was in the midst of a skyscraper boom, and a majority of these buildings were built in the Art Deco style. In addition to the Chrysler and Empire State Buildings in New York, the Art Deco Chicago Board of Trade Building opened its doors in 1930, while Detroit's 40-floor Guardian Building was completed in 1929, and Kansas's 34-floor Kansas City Power and Light Company Building was finished in 1931. The entire country was being built upwards, and the excitement was palpable. 
Not only did furniture materials reflect these newly-erected buildings, but the color palette also followed suit. Thought to symbolize electricity, blue became a common color for furnishings, and hits of black and chrome hinted at new technologies. "Part and parcel of this present age of speed and space economy, much of it takes inspiration from the skyscraper and utilizes angles and square masses in the pyramided manner of New York's best buildings. Color schemes, too, are different and unexpected," The Bristol News Bulletin wrote in 1927. During this era, pastels like mint green, pink, and light yellow became possible to produce at scale, thanks to the introduction of plastics and new techniques for applying lacquer coatings with resin. 
Still, most things made in the 1920s weren't yet mass-produced, and you can see the influence of the era's architecture in the era's handcrafted, most iconic furniture pieces: Ludwig Mies van der Rohe's Barcelona Chair appeared in 1929 and used black leather and steel legs, and Le Corbusier's Chaise Lounge from 1928 mirrors the limbs of the human body but with the slick precision of leather and an exposed metal frame (as shown above, still stocked at Design Within Reach). Paul T. Frankl's 1927 skyscraper cabinet quite literally mirrored the jagged shape of skyscrapers. 
So why have throwback materials like chrome and mirrored glass come to the fore yet again? Trends tend to be cyclical, and after a decade of all things mid-century modern, Art Deco's curves and touch of glam offer something different. Interior design is also experiencing an '80s revival right now, and that's when Deco first previously bubbled up as a reaction to the original MCM and boho style interiors of the '60s and '70s.
Perhaps parallels exist with the state of the world somewhat, too; after a year and change of uncertainty and the arrival of a COVID-19 vaccine, maybe some people, even if subconsciously, want to channel some of that Roaring '20s optimism with bright, shiny things. The world of design has always — and will continue to — move forward by looking to the past, and even our coffee tables and chairs can't escape this influence and vision.