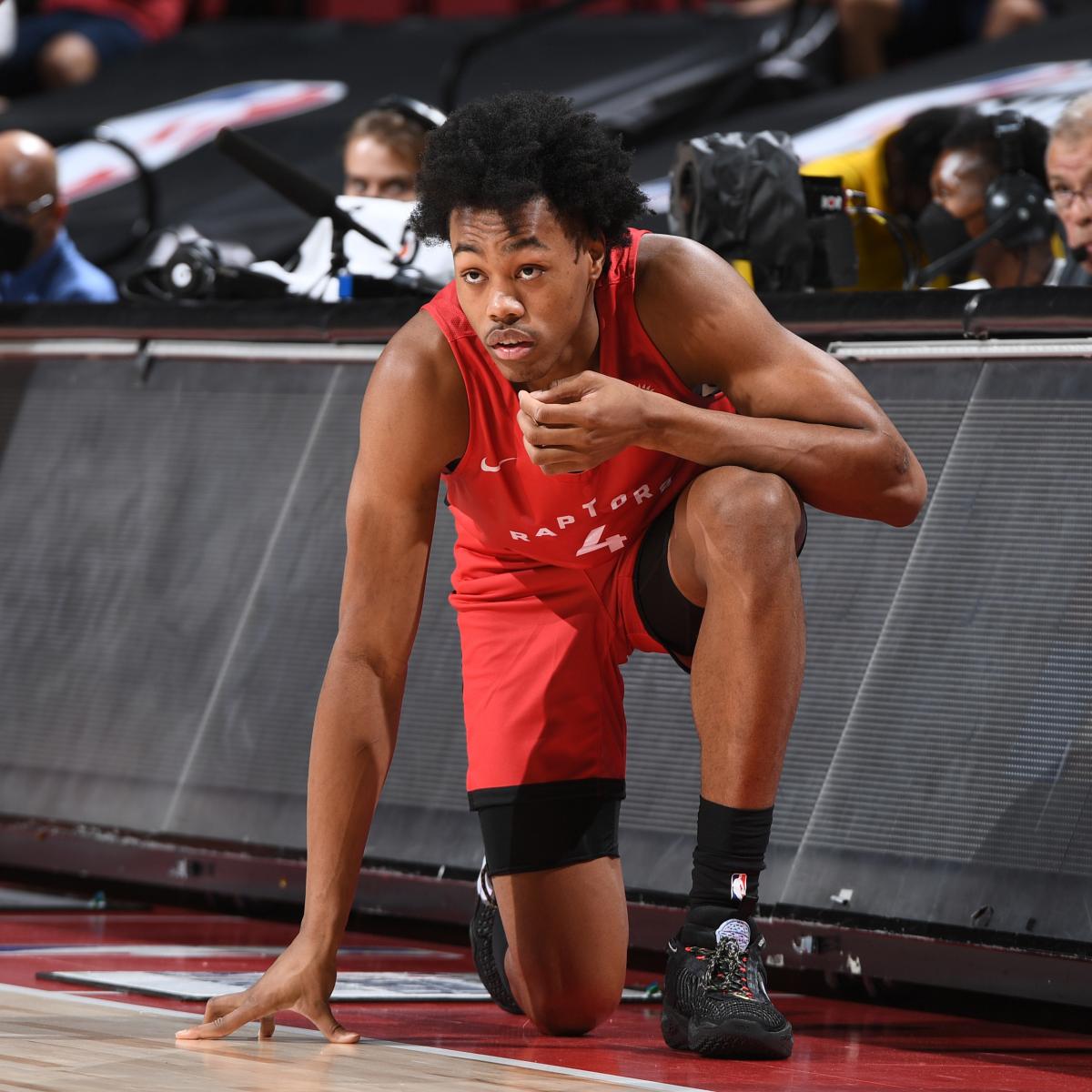 0 of 5
Garrett Ellwood/Getty Images

Four of the top seven picks from the 2021 NBA draft were in action during Day 4 of the Las Vegas Summer League. And after diving deeply into Tuesday's showdown between Cade Cunningham and Jalen Green, it's only fair we spotlight how the rest of the newbies are faring so far.

(Aside: All five of the remaining top-seven selections were slated to play on Wednesday, but Josh Giddey, the No. 6 pick, was held out of the Oklahoma City Thunder's tilt against the New Orleans Pelicans with a left ankle sprain.)

Please, please, pretty please do not interpret these stock reports as referendums on how each top-seven rookie will fare in his inaugural season. This exercise is instead a mixture of observations based on how they've played in Sin City only.

Wednesday's performances will be our primary focus. Like always, though, previous outings and big-picture discussions remain part of the calculus.

This party will wrap up with the "Breakout Candidate of Day 4," a totally real, not-at-all made-up award given to the player who seems most poised to parlay his summer-league showing into regular-season ascension.
1 of 5
Garrett Ellwood/Getty Images

Some will look at Scottie Barnes' summer league to date and use it to troll the Toronto Raptors for not selecting Jalen Suggs at No. 4. Don't be one of those people.

Glimpses into what can be are just as important, just as telltale, as sustained excellence in exhibition games. Barnes is already an extremely active defender, and his comfort within the play-finishing niche and at the foul line should ensure he doesn't non-factor himself off the floor during the regular season.

Still, there is an incompleteness to his offense. His takeoff points on drives are all over the place and oft-premature. He needs to better account for the defenders in front him and use more changes of direction to position himself closer to point-blank range. He is currently forcing too many shots from various spots—this could just be a symptom of summer league—and his misses are misses.

And yet, some of Barnes' makes are seductive. He has the chops to bake in more off-the-bounce spins, methodical fades and sudden pull-backs. Raptors fans will cling to the turnaround jumper he hit over Jonathan Kuminga after faking left—and they absolutely should. Toronto should be equally attached to his 1-of-2 clip from deep in the team's Wednesday loss to the Golden State Warriors. Barnes is worlds away from churning out self-created threes, but there's a fluidness to the set, wide-open triples he's launching.

Stats are not necessarily worthless in summer league. They're also not mission critical. Barnes hasn't shown enough to disprove his project label, but he's flashed enough to retain the ceiling of an all-around cornerstone that prompted the Raptors to draft him in the first place.

Stock: Neutral
2 of 5
Garrett Ellwood/Getty Images

Regardless of Golden State's intent, Jonathan Kuminga forecasts as a bigger-picture swing for the Warriors. Either they're hoping he can serve as a primary, and seamless, bridge into a post-MVP-Stephen-Curry future or banking on his mystery-box appeal giving them a leg up in future trade talks for a star.

Both angles presume he's more of a project. But what if he's more than that?

Dropping 18 points on 17 shots and six turnovers in Golden State's win over Toronto isn't an incredible feat. Kuminga is firing off difficult looks in the lane and around the basket and is enjoying the type of on-ball volume he has no chance of matching during the regular season.

That's sort of the point.

Many of the other top rookies are speeding toward more immediately difficult roles. Cade Cunningham, Jalen Green and Jalen Suggs all project as the heart and soul of their team's offense. Evan Mobley will be shoehorned in minutes at the 4, without a top-flight floor general by his side unless Ricky Rubio turns back the clock or Darius Garland goes boom. Scottie Barnes will be under pressure to lean on his unfinished ball skills to some degree in Toronto—particularly if the awkward Goran Dragic situation ends in his departure.

Kuminga, on the other hand, is walking into a team that has one of the best offensive players to ever grace the earth and a limited-yet-lethal playmaker in Draymond Green. Andrew Wiggins and, once he's healthy, Klay Thompson will also be tasked with subsuming more of the offense in front of him. 

That frees up Kuminga to run the floor, dive to the basket and bang in set threes, a role for which he already seems suited. After going 0-for-4 from downtown in his Vegas debut, he went 3-of-6 behind the rainbow against the Raptors. And for all his wild-looking attempts on the move, he has proven he can finish through traffic and while ricocheting off defenders.

Overall, Kuminga's body of work takes him from long-term theory to a shorter-term possibility. That matters.

Stock: Up
3 of 5
Bart Young/Getty Images

Evan Mobley stuffed the box score in the Cleveland Cavaliers' Wednesday victory over the Orlando Magic, finishing with a tidy 14 points, seven rebounds, six assists and one block. The versatility he has shown while functionally working as a playmaking center is beyond desirable.

Those six assists don't accurately reflect his facilitation. He had a couple nifty passes teammates couldn't handle or weren't expecting. The dimes he did dole out, meanwhile, weren't simplistic afterthoughts. He was passing teammates open—to the extent that a couple of them seemed genuinely shocked at how open they were on the catch. His handle, at times, resembles that of a wing or guard.

Mobley's scoring is a work in progress. There is a clear depth to his armory. He has a nice-looking fadeaway in the post, doesn't seem overextended when putting the ball on the floor, can splash in jumpers off the dribble and is willing to test his three-point range.

But even as a seven-footer, with the size to get shots off over the top of defenders, he needs to work on accelerating his release. And he definitely needs to get more comfortable making decisions in traffic.

Time and space will be even harder to come by versus better competition during the regular season. On the bright side, the Cavaliers have more seasoned ball-handlers around him to unscramble his offensive responsibility.

Mobley shouldn't be saddled with as many playmaking duties in minutes with Darius Garland and Ricky Rubio, permitting him instead to focus on running the floor, finishing and popping. At the same time, it would certainly behoove Cleveland to empower him to lead the break after rebounds and squeeze in some face-up reps within the half-court. Along those same lines, getting him plenty of run independent of Jarrett Allen should also be top-of-mind.

Stock: Up

4 of 5
Bart Young/Getty Images

After a slow start against the Cavaliers on Wednesday, Jalen Suggs looked like he might close his second summer-league game without leaving much of dent.

Cleveland's physicality on defense—which contributed to both he and Cole Anthony earning a technical foul apiece—rattled Suggs at the beginning and seemed like it wore on him down the stretch. There were later possessions where he deferred rather than attempt to impose his will as a shot-maker. It was weird, but does not augur anything sinister, a probable sign of fatigue more than anything else.

This preamble reads like Suggs went out with a wimper. In actuality, he mustered a series of intermittent roars, racking up 16 points, eight rebounds and five assists on 6-of-13 shooting from the field.

Suggs deserves a lot of credit for trying to finish through or while bouncing off Cavs defenders. He would no doubt tell you he should've earned more than three looks from the charity stripe.

Much like he did during his summer-league debut, Suggs highlighted his ability to manufacture opportunities off the dribble, peppering in a couple of from-scratch jumpers. But more of his scoring in this one came while moving away from the ball. He relocated around the three-point line and attacked cracks and chasms in the Cleveland defense. (The Magic did a nice job of cutting from the corners overall.)

Initially, on the heels of Suggs' first game in Vegas, I recommended you smash the over on how many points, rebounds and blocks he would average per game this season. That unsolicited advice stands—only now I'm adding his assists to the fold, as well.

From spraying a couple of kick-outs to the corner to a no-look pass that resulted in an easy two under the basket, Suggs demonstrated a keen awareness when faced with aggressive defensive rotations. At least one of his five assists came as a last-ditch decision after trying to barrel his way through the trees, and he does need to ensure he finds the middle ground between disengaging entirely and forcing the action versus punitive defenses.

For the most part, though, he had yet another game that demands the Magic feature him, unrelentingly, from Day 1.

Stock: Up
5 of 5
David Dow/Getty Images

Desmond Bane is making his second cameo in three days not for lack of other worthwhile options, but because he's leaving that type of an impression.

His 16-point, four-assist line in the Memphis Grizzlies' loss to the Miami Heat—related: All hail Max Strus—might not seem like much on the surface. Delve deeper, and it's a big, fat bag of wow.

Bane is now averaging 24 points and four assists through two games while shooting 69.2 percent from beyond the arc (9-of-13). The manner in which his buckets are coming is a stark contrast from his role with the regular-season Grizzlies. He is spearheading fast breaks and downing jumpers off the dribble en masse, playing more like a from-scratch creator than offensive accessory.

That role expansion doesn't stop at his shot profile, either. The Summer Grizzlies are giving him floor-general reps, and he looks the part. He has found teammates coming out of the pick-and-roll and frozen defenses with lead passes independent of screens.

Whether Bane's on-ball usage extends to the regular season is a matter of course. The Grizzlies have been on the prowl for a playmaking wing since roughly the dawn of time, but they have plenty of others—namely Ja Morant, Dillon Brooks and Kyle Anderson—who supersede him in the pecking order.

Whatever.

Figuring out how to afford Bane more offensive agency is a great problem to have. That his offense is worth more comprehensive exploration at all is the bigger, potentially gargantuan deal.

Unless otherwise noted, stats courtesy of NBA.com, Basketball Reference, Stathead or Cleaning the Glass. Salary information via Basketball Insiders and Spotrac.

Dan Favale covers the NBA for Bleacher Report. Follow him on Twitter (@danfavale), and listen to his Hardwood Knocks podcast, co-hosted by NBA Math's Adam Fromal.